Steel Frame Buildings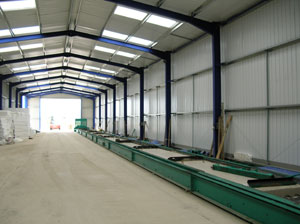 We have our own 'in-house' steelwork detailer, Jeremy Grix. He carries out site surveys taking critical dimensions and operates using the most current technology when detailing.
All of our steel erectors are time served fully trained for plant machinery etc and have carried out the most intricate of architectural work.
We have fully up-to-date machinery enabling us to have capacity of up to 40 tonnes a week. Our in-house paint spray shop means we can spray paint directly after fabrication.
Elite Steel has accreditation to BS EN Class 2 which ensures that your projects meet all current legal requirements and to the highest standards.
We specialise in:
Design, supply & installation
Planning applications
Building regulation applications
For more information about our Steel Frame Building services, and to find out how we can help you, please contact us here or call us on (01553) 775463 / (01945) 585100 and ask to speak to a steel building specialist.